Weymouth September 2003
---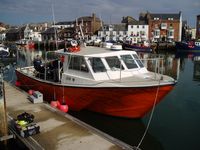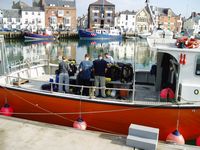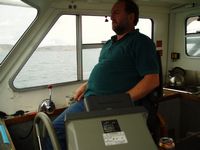 Chris Bell got us a weekend on Our-W with the infamous Woody at the helm. It looked windy and we had a severe weather warning for the Sunday so while everybody else was calling things off we headed to Weymouth.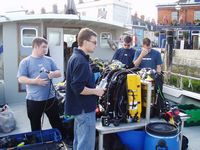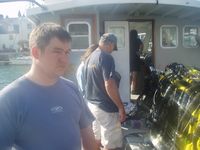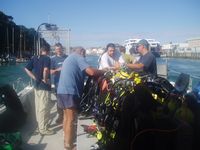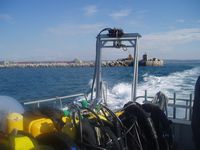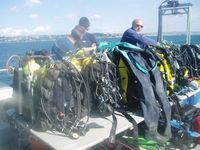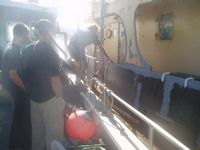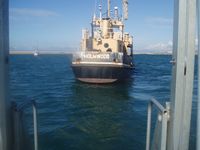 Saterday wasn't rough even by my standards and it was sunny too.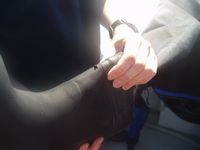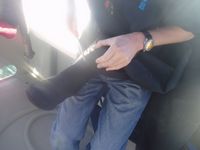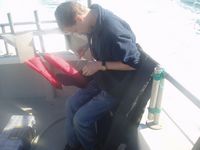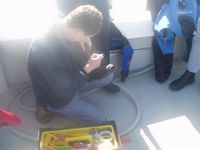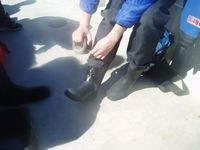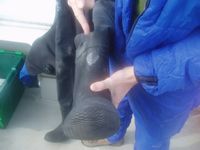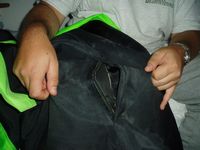 Alasdair put a lot of effort into getting another win on the AA kit award by finding an enormous hole in his (not so) drysuit boot. He made manfull attempts to fix it with Aquasure, hot screwdrivers and Duck tape only to be pipped at the last by DannyB bursting out of his suit bottom. Thankfully that one was spotted as Danny was starting to kit up for the Hood. My humble effort of stripping the thread on a DSMB inflator bottle was relegated to a mere 'also ran' status.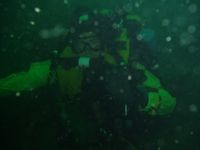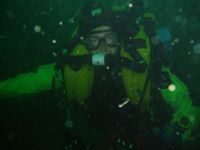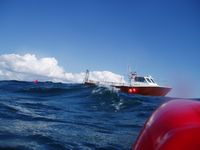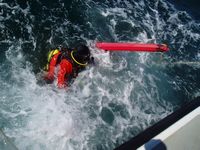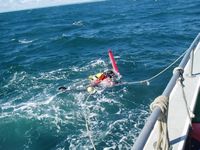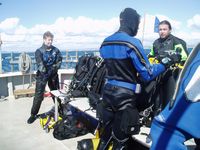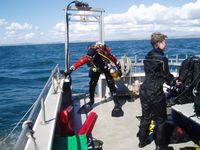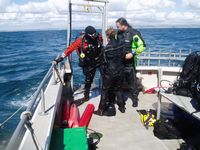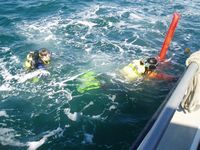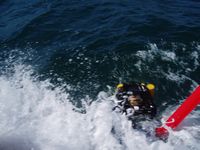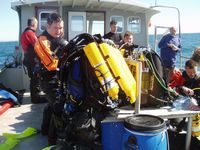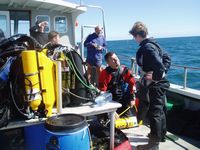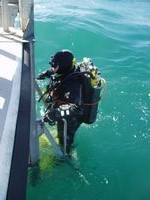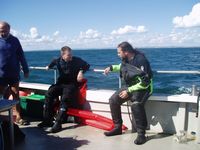 We dived the Pomeranian. A four mast + steam screw vessel torpedoed enroute to Canada in 1918. It was well broken but not bad for the date. We had about 4m of vis so most of my pictures aren't worth keeping. We ended up with 37m and 34 mins total runtime. We could have done with longer but we no-stopping Danny's Nexus computer so I only got a couple of minutes on the Aladin and the nice slow ascent washed them out.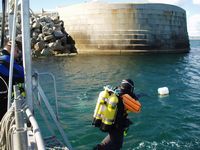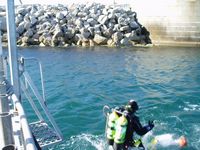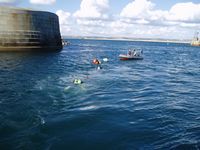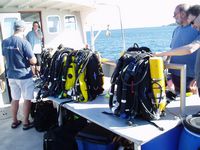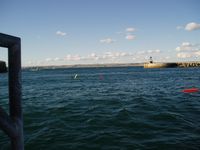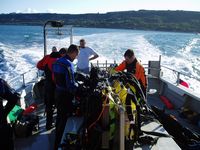 For a second dive we did the inevitable Hood, the blockship at the southern enterance to Portland Harbour. If anybody didn't find it they knew not to say anything. Notice the photo of all four rebreathers all passing up the oppertunity.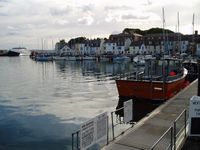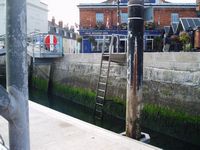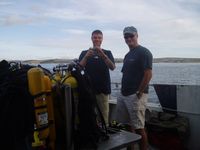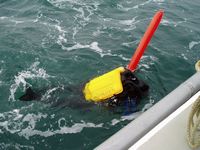 Severe weather warning or not Sunday dawned glassy calm so I revised my plan to give up and go home early and we dived the M2. It was nice to dive a vessel I know something about and Woody put the shot just forward of the hanger and Huw and I worked our way round the hanger, the conning tower and right back to the stern. The stern on the M2 is spectacular as it sits level on a reasonably flat bottom. We went down underneath and then circled forward to the bows again.
Unfortunatly when I came to blob off the thread had stripped where the DIN self inflator screwed into the DSMBi and most of the air spilled out round the valve. So, with Huw holding on to one of my fins as it was a bit buoyant, I filled it with the turtle's auto air and made the ascent on that.
The only real disapointment of the dive was that the camera's batteries went flat so after a very anguished session tipping the housing up/down/left/right to assure myself that it wasn't a leak stopping things working I just left it. We totalled 48 mins runtime on 35m max. Time for a good look round without getting into much in the way of stops.

Thank you to everybody. The weather was much kinder than we expected and it was generally thought to be a good weekend.


---
The pictures can be accessed by clicking the thumbnail but they tend to be 900K+ files
Pictures by Nigel Hewitt
Thumbnails by Easy Thumbnails


by Nigel Hewitt