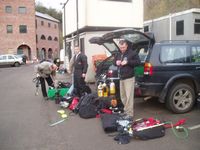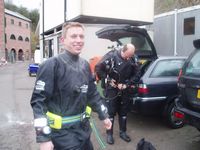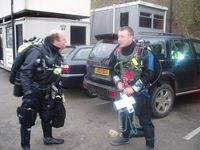 This fine body of sensible academics were there to test their new group SMB. Notice the 'Christmas tree man' with all the cameras. The three 7L stages for each support diver were already carried down in the water by this point.
They needed an above water cameraman and, since I had my hands full of my camera, I offered Danny.
I last ran into John when he was doing a GUE course with Jarrod Jablonski so he is obviously a paid up member of the serious divers society, a pillar of the community, a gentleman and a scholar etc. We all know DIR divers don't have a sense of humour so it's obviously going to be a dull morning.