Ice
---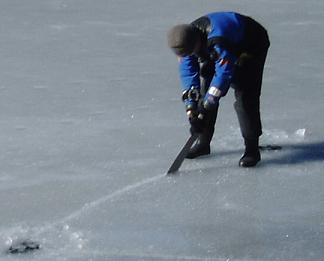 OK. A quick reality check. I am still Nigel Hewitt. I don't really like training courses. I don't much like international travel. I don't do social environments with too many new people or too many new things and I definitely don't like getting cold so what am I doing standing on a Austrian Alpine lake using a five foot long hand saw to make a hole in the ice wearing my drysuit? The poor old boy has finally cracked.

I blame Ben. Ben Panter is the gentle voice of reason on the BSAC diving forums. When Ben says something is a good idea I tend to believe him. However Ben also teaches the BSAC Ice diving SDC which isn't a good sign.

Let's wind back a bit. It was Novemberish when Ben lost a planned group for the second Ice Diving SDC of February 2007 and decided to offer the places on the web forum. I believed the intro and signed up.

We booked flights to meet in Munich on the Friday and Ben joined us part way for the train ride to Kaufbeuren where we were collected by Thomas who took us to his dive centre, Taucherhof in Aitrang in Bavaria. Nice accommodation and good dive centre facilities with a good warm drying room but just no sea for hundreds of miles in any direction.

---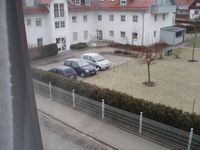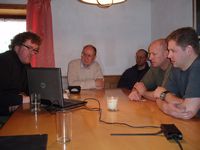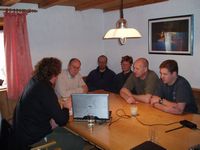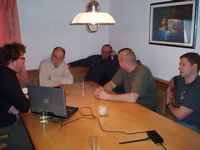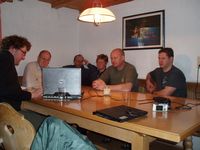 The first day started frosty but not snowy with lectures by Ben and Richard and an introduction to the basic tool of ice diving: rope. We listened carefully as some of it consists of novel ideas and then went into the garden to role play divers.
Now Ice diving uses a pretty belt-and-braces approach to rope in that they like to tie it round your tummy and then attach it to you with a stainless steel carabina. So we practiced our knots and walked up and down doing rope signals and, after lunch, we packed up into the van and ran off to a local lake to practice in the wet.

I don't have any pictures of the first day yet
The house reef for Taucherhof was scandalously ice free but that probably pleased the Radio Control power boaters at the other end. We kitted up and started revising our normal diving practices.

Buddy check.
You have to do a good part of this in the water. Naturally the biggest danger is a regulator freezing up and free flowing all your gas away. Only being at 2 meters depth does you no good if the last few cms is an impenetrable layer so there are tricks to prevent this.

The first step is to use the water. The water is warm. Out of the water is usually well below zero and any wind makes it worse with chill factors in silly numbers. Fresh water is always above zero and usually 4°C if you stired it up any so use this source of heat and submerge your regulators before even check breathing them. Our regs are all freshly serviced on Ben's advice so they behave well and the promised freeflows never happened. Those of us on OC gear are using twinset type regulators on a Y valved cylinder not so we can do shutdowns but so we can reduce the load on any one first stage.

Now the Rope
If something goes wrong you cannot break even a 2cm ice sheet from below so you must get back to your entry hole. At best you follow the rope but at worst you give 4 pulls and the rope tender just hauls in the line until he gets his divers back. Rope is good. Signals are good. We practiced signals and we finished the dive by practicing 4 pulls for the quick trip home. We all tried this and one rope puller can easily tow two divers.

We practiced our rope skills both as the rope tender and as the dive leader with Ben and Richard, our two instructors, taking the roll of buddy. The buddy is on the end of the rope and the leader about 2 meters further along so it is the leader that must send and receive the signals.

We did our time and went back to Taucherhof for a complicated cook-it-yourself 'hot stone' meal that is clearly far more a social event than a gastronomic experience.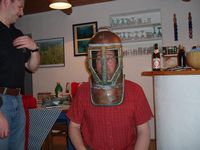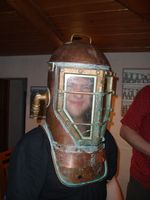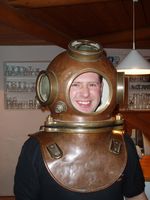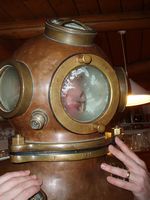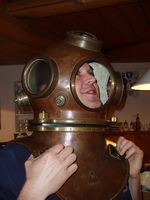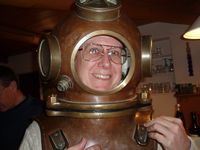 Thomas dives the Standard Dress in the Alpine lakes so he fetched out his diving helmets for us to see. Several of us just had to see what it was like to be inside and much hilarity ensued. It was fun but to actually be inside that helmet under the water controlling your dump valve by pushing your head against the plate must be a novel experience.


---
Sunday dawned and they promised us real ice.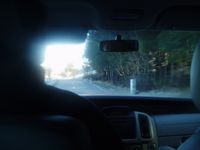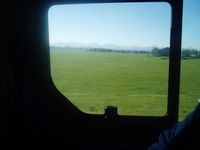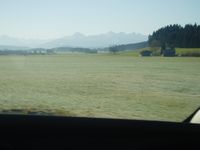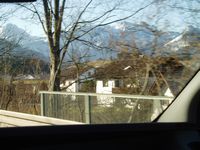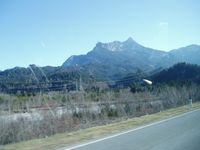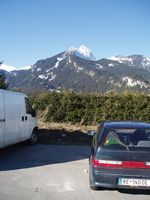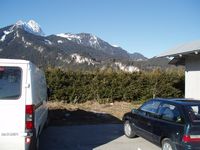 The Alps loomed on the horizon so we packed the trailer and headed off. It took well over an hour and took us over the border into Austria, the last bit climbing on mountain trails, but finally we parked on real snow next to a real frozen lake, the Frauensee not far from Reutte.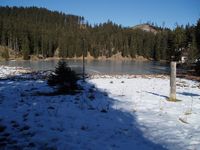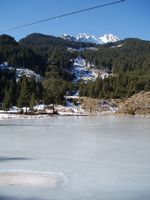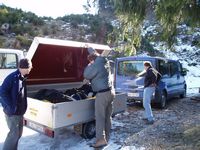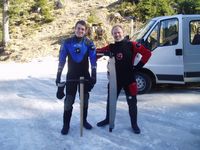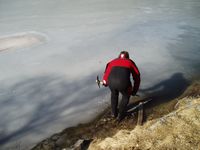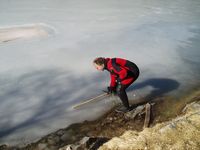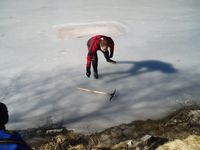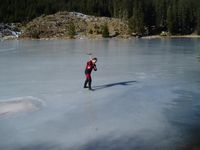 "You test the ice, if it is safe to walk on, with your dry suit zipped up" said Thomas but Ben and Richard had a better idea. "You send the guide" Thomas tapped the ice with the pickaxe, stepped onto it, listened to the creaks, moved away from the shore "where it is weakest" and pronounced it safe to cut a demo hole but it would be better to shore dive.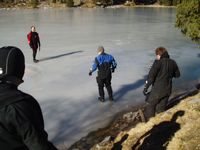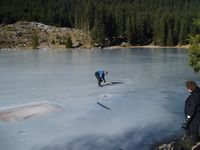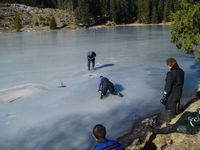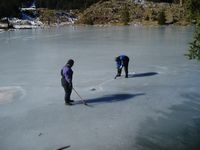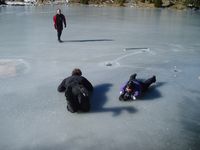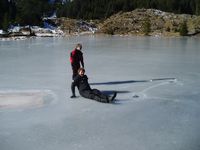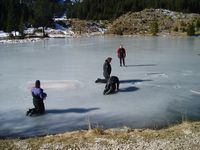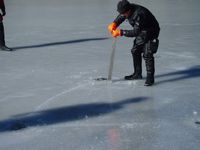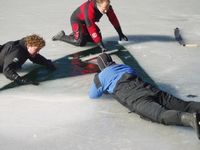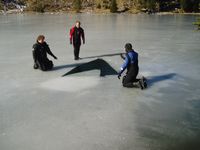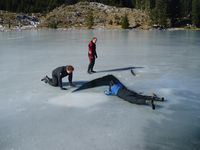 I had to try. Pickaxe a hole then saw one leg of the triangle. This gives you an enormously heavy piece of ice but it is virtually neutral in the water so you gather round and push it down and slide it out of the way.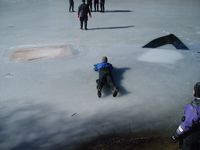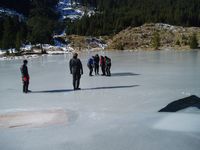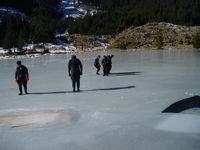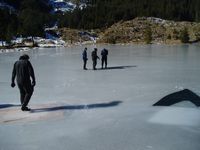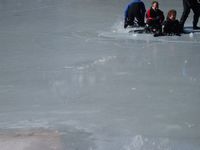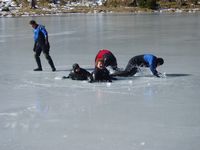 Crawling and sliding on your tummy is a good way to cross the weakened ice near the edge and we played at it. I'm not sure whose idea it was but Richard and Thomas started to gather people around and jump up and down. They needed quite a few but as Ben joined them the concentric ring of cracks appeared then thickened and they finally ended up in the water. A clear lesson that a bit of creaking and some cracks isn't a problem and falling in nice warm 4°C water isn't either.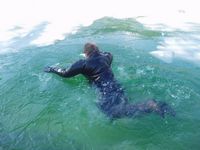 Now we deployed the ropes for the course dives. Ben elected to clear the thin film of ice in our proposed starting point by jumping on it and thrashing about.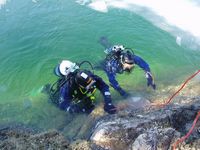 Ok. I was nervous so I elected to deal with the problem by going first. Kitting up is slow when you are trying to move up and down a snow covered lake bank but the Y valved single tank with my twinset hoses went on quickly with many hands to help. The rope tender fitted and verified their ropes and Richard and I climbed in to finish our buddy checks with our first stages in the nice warm water.

Hey it was a good dive. OK my VR3 never even acknowledged it existed as I obeyed orders and stayed close to the ice. I was 'leading' so spotting an inviting patch of light we navigated towards it. It was our triangle so I looked out and then gave the Take in slack signal and started back.

There was one small drill to add which was a disconnect on the BCD and Drysuit feeds. It is complicated by gloves but not sufficiently to make a problem. We did the back in the entry exit hole because being there didn't make it any easier but it removed the complications of something going wrong. It felt slightly trivial after doing a dive under an ice sheet with all the rope work but I suppose it is a safety consideration as the course is aimed at a small margin over Sports Diver.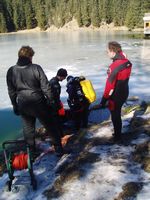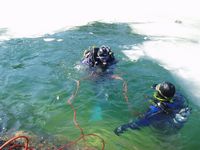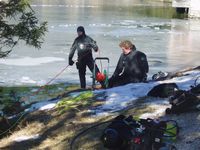 We then proceded as everybody ticked off their first actual dive under ice and we all did the rope tender duty and generally functioned as dresser, fin bitch and just a source of support when trying to walk over snow in full kit.

We finished the first session with a demonstration of the rescue technique for a pair that have done the unforgivable sin and lost the rope. Their plan is to ascend to the ice sheet and wait. The standby diver is then run out on the longer rope and on reaching the end swims in a radius until the rope runs into the lost divers. Communication is re-established and even if their sense of direction causes them to swim along the rope towards the diver they are found and will eventually get back to the hole.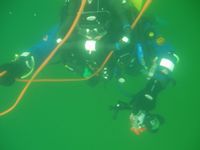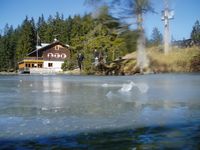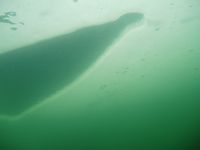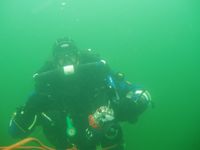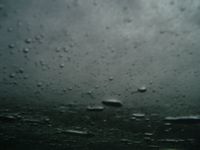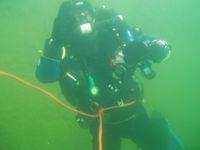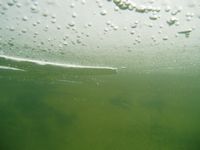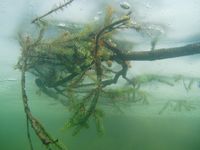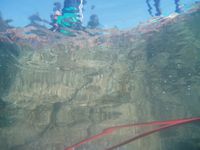 Now it was time for our second dives but now we were running as buddy pairs: These are my pictures from my dive as buddy. We visited the triangular hole we had cut earlier and I stuck my head up and took a picture of Ben acting as tender back at the the entry point. I was quite pleased I had elected to use OC gear and fly as shallow work on a rebreather is never fun. However nobody disgraced themselves and the standard of diving was high. Interestingly I had the lowest BSAC qualification as I am still on my crossover grade of Sports Diver.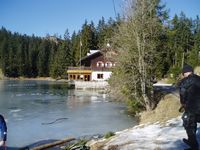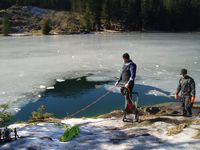 After that, once we all had a second dive, we were getting cold and decided to clear up.

We drove back to Taucherhof and Richard, Adrian and I took the option to stay the extra night and Thomas delivered us to the station at eight o'clock next morning and we took the train for Munich Airport. The time was a bit tight but it worked.

---

Observations?
I was a bit apprehensive at times but the course material is well thought through and I didn't need to know anything I didn't know. It was pointed out that this winter has been untypical mild and with no snow and no blizzard the temperatures and the ease with which we could work the ice were unrealistic for a normal year. Conversely water is water and it can't get colder so it is the out of water work that becomes more complicated with divers getting chilled and regulators more prone to freeze if they are used out of the water.

I had bought an under-undersuit in thermal wicking material and that under my normal Otter 200gm undersuit, Otter Britannic membrane and Weezle booties kept my body warm. I used a standard UK Otter hood and tight 5mm Hydrotech gloves with 'garage gloves' to slide them on and although my fingers were cold at the end of the day it was just ordinary cold not loss of sensation. Frankly I've been chillier walking to work.

Thanks must go to Ben and Richard our instructors, also Thomas and Marion of Tauchehof and all my fellow students for making it and informative and enjoyable SDC.

---
The pictures can be accessed by clicking the thumbnail but they tend to be 900K+ files
Pictures by Nigel Hewitt, Ben Panter, Adrian Kelland and Richard Candler.
Thumbnails by Easy Thumbnails

by Nigel Hewitt